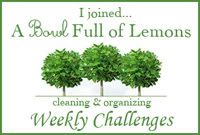 I've been doing some research lately, on organizing, because I'm sick of the way my apartment has been looking. A Bowl Full of Lemons had a 21 day Organizing Challenge that started at the beginning of January. I found this when they were already on day 15, so I did a few things, but didn't have the time to commit to the entire challenge. I have some before and after pictures of my bathroom, that I will be blogging about soon :]
The Weekly Challenge will start on Sunday, and I'm super excited. Toni put samples of what the challenges will be, and I'm excited about:
Organizing your craft room
Creating a recipe binder
Menu planning
If you're interested, I hope you check out A Bowl Full of Lemons and try the Weekly Challenge too!